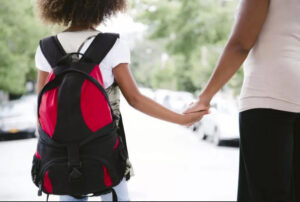 Anyone with school-aged children is familiar with the challenges returning to a fall routine. Such transitions can be disruptive as everyone adjusts to new teachers, new expectations, and a laundry list of to-do's.
Here are some things to consider that may ease the growing pains of September.
Prioritize sleep hygiene. Your child needs routine and rest to be able to adjust to changes well. Running to and from activities, finishing homework, and preparing for the following day is not easy and can often push that bedtime later. Help your child with managing their schedule leading up-to bedtime and prompt them with reminders to complete their nighttime routine as bedtime approaches. If phones and other electronics are an obstacle, establish a firm cut-off time to ensure your child's brain isn't overstimulated leading up to sleep. Rest should be at the top of the priority list for children and parents alike!
Limit after-school and weekend demands. There are only so many hours in a day and everyone needs some time to regroup after a busy school and work week. Consider what you must say "no" to in order to achieve some downtime.
Family meals make a difference. Research has taught us that the benefits of regular family dinner's with at least one parent are profound. At the time that it seems the hardest to wrangle everyone to sit down and eat together, it is perhaps the most beneficial. Regular family dinners, improve self-esteem, improve academic performance, and lower risks of depression. Few family's can sit down together every night but discuss what is realistic for your family and problem solve barriers to making it happen.
Ask about your child's worries. Even if your child is not outwardly expressing concerns about school, giving your child time to be heard and expressing empathy for the challenges they are facing will grow the parent-child relationship and decrease overall anxiety about school. Your child will know you are a safe sounding board should anything overwhelming arise.
Pay attention to your own behavior. Let's face-it: being a parent can be exhausting and stressful at times, and it's normal to lose your temper occasionally. But keep in mind that your children are looking to you to understand how to cope with stressors. Consider taking a step back, talking to a support or seeking therapy if you are struggling to express your stress in a healthy way. At Therapeutic Partners, we are here to support you with the challenges of parenting, so contact us if you need help.