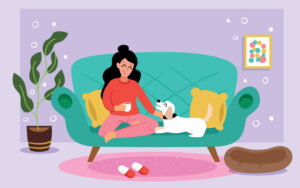 6. Stay hydrated and eat well. This one may seem obvious, but stress and eating often don't mix well, and we find ourselves over-indulging, forgetting to eat, and avoiding food. Drink plenty of water, eat some good and nutritious foods, and challenge yourself to learn how to cook something new!
7. Develop a self-care toolkit. This can look different for everyone. A lot of successful self-care strategies involve a sensory component (seven senses: touch, taste, sight, hearing, smell, vestibular (movement) and proprioceptive (comforting pressure). An idea for each: a soft blanket or stuffed animal, a hot chocolate, photos of vacations, comforting music, lavender or eucalyptus oil, a small swing or rocking chair, a weighted blanket. A journal, an inspirational book, or a mandala coloring book is wonderful, bubbles to blow or blowing watercolor on paper through a straw are visually appealing as well as work on controlled breath. Mint gum, Listerine strips, ginger ale, frozen Starburst, ice packs, and cold are also good for anxiety regulation. For children, it is great to help them create a self-regulation comfort box (often a shoe-box or bin they can decorate) that they can use on the ready for first-aid when overwhelmed.
8. Spend extra time playing with children. Children will rarely communicate how they are feeling, but will often make a bid for attention and communication through play. Don't be surprised to see therapeutic themes of illness, doctor visits, and isolation play through. Understand that play is cathartic and helpful for children—it is how they process their world and problem solve, and there's a lot they are seeing and experiencing in the now.
9. Give everyone the benefit of the doubt, and a wide berth. A lot of cooped up time can bring out the worst in everyone. Each person will have moments when they will not be at their best. It is important to move with grace through blowups, to not show up to every argument you are invited to, and to not hold grudges and continue disagreements. Everyone is doing the best they can to make it through this.
10. Everyone find their own retreat space. Space is at a premium, particularly with city living. It is important that people think through their own separate space for work and for relaxation. For children, help them identify a place where they can go to retreat when stressed. You can make this place cozy by using blankets, pillows, cushions, scarves, beanbags, tents, and "forts". It is good to know that even when we are on top of each other, we have our own special place to go to be alone.