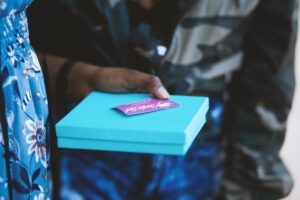 The holiday season is upon us! Which means it's time to think of gifts to give or of the gifts we wish to receive.  At Therapeutic Partners we want to give some gift ideas that support and/or enhance mental health for your loved ones (or for yourself!) Here are a few of our favorite ideas:
A subscription to a meditation app- The

Calm app

or the

Headspace app

are both great for people wanting to have a regular practice of meditation. There are free versions of the app, but with a subscription, users can unlock a number daily tools to assist with the skill.

Items that assist people explore a new hobby- Want to get into reading? Maybe a subscription to

a book a month program

.  In Raleigh, a company called

Skillpop

holds workshops for a  number of interests such as, cookie decorating, photography, blog writing, and many more!   Maybe a gift card to take a class with them!

The gift of joyful movement- What ways does this person like to move their body?  Do they enjoy yoga? Running? Bike riding? Would they enjoy a membership to a fitness studio?  Do they want to learn a new skill like stand up paddle boarding? A lot of companies offer lessons.

Gifts that explore one's creative side-  Are there art supplies that could be fun? Or an art class? Tickets to visit the performing art center? Or even the local movie theater! Gifting a trip to a local art museum could also be a great way to spend an afternoon.  

Tools to help with the physical feelings of discomfort in our bodies – Items such as weighted blankets, fidget tools, adult playdoh, fuzzy pillows and blankets, and essential oils can help ease uncomfortable feelings that manifest in our bodies.

Gifts that support the traditional ideas of pampering or reflection: Items for bubble baths, face masks, aromatherapy items, candles, a gift card to get a pedicure, or a journal amongst others are wonderful ways to help someone stop, slow down, and treat themselves.  

And finally! Whether for yourself or for your loved one, the gift of therapy truly is the gift that keeps on giving!
Whatever you decide, with love and thoughtfulness, any gift large or small will always be appreciated!
Happy Holidays from Therapeutic Partners!